Modulus wins the Curvy Design Contest
Modulus wins the Curvy Design Contest using Pure Timber flexible hardwood
Contest sponsor Elements Manufacturing will build and deliver the winning Möbius Infinity Lamp in October 2018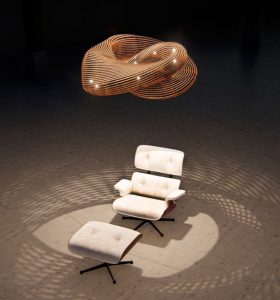 SANTA CRUZ, Calif., Aug. 8, 2018 /PRNewswire/ — This morning, Elements Manufacturing announced Modulus Architects of San Jose, California, the winner of the Curvy Design Contest with their submission of the Möbius Infinity Lamp.
Earlier this year, architectural firms across the country were challenged to submit designs of Pure Timber flexible hardwood. The winner will receive a fully-constructed version of their winning design, built by sponsor Elements Manufacturing, an architectural millwork firm in Santa Cruz, California. The flexible hardwood material will be provided by contest co-sponsor Pure Timber, a hardwood supplier in Gig Harbor, Washington, that has developed the proprietary Extreme Wood Bending™ process.
Modulus Architects describe the Möbius Infinity Lamp as "a beautiful new twist on the mathematical and unorientable Möbius Strip. With neither a beginning nor an end, the lamp's form is derived from a single cross section rotated about a central axis while simultaneously revolving around a full circle."
In announcing the winner, Elements Vice President, Alan Stormes said, "We want to congratulate Modulus for an amazing design. The Möbius Infinity Lamp elegantly combines the functionality and aesthetic properties of this exciting new wood bending technology. This will be fun for our woodworking team to build and install."
Elements will build and deliver the winning Möbius Infinity Lamp to Modulus in October 2018.
About Elements
Elements Manufacturing has been working with leading architects and contractors to provide advanced architectural millwork in commercial spaces. Contact: David Wright,  design@elementsmanufacturing.com  (831) 421-9440   www.elementsmfg.com
About Modulus

MODULUS exists as a unique architecture team intricately focused on creating special spaces and crafted environments. Through the formulation of light, space, and experience – atmospheres  for working, dreaming, thinking, communicating, and living are born. Contact:  David Fenster, AIA david@modulus.com  (408)278-7038   www.modulus.com
About Pure Timber 

Pure Timber produces bendable hardwood and bentwood products and fabrications using a proprietary Extreme Wood Bending™ process that produces the world's most dramatic and ambitions bentwood fabrications from thick, solid hardwoods. Contact: Chris Mroz,  chris.mroz@puretimber.com  (253)988-2046   www.puretimber.com
Design. Win. Build. Enjoy!
Cold bend™ hardwoods rank at the top of our list of cool materials. In fact, Elements' millworkers have been itching to build something with Pure Timber using a great design from one of our architect friends.
So, we're inviting architects and designers we work with (about 40 or so) to submit designs. In July we'll pick a winner, build it and deliver it to the winning architect. 
Rules
You must submit your design by July 31, 2018, 11:59pm!
Your design should be a maximum of 30 cubic feet and suitable for an interior setting. So, it can be tall, wide, or blocky, functional or artistic.
Pure Timber flexible hardwood must be the primary material.
The design must be original from you or your firm.
Designs must be submitted electronically, preferably on a single page.
The team of judges is comprised of people from Elements and Pure Timber.
Copyright of the design stays with the designer.
By submitting a design to this contest you agree to allow Elements to publicize the winner, including photos of the winning design.
Submit your design
or contact us with questions
info@elementsmfg.com
or just call us at (831)421-9440
Disclaimers
This contest does not involve money or prizes. There is no entry fee, no cash prize, no reimbursement for materials, etc. We are not regulated by the California State Lottery. This contest is just for fun. Images used with permission from Pure Timber.
About Elements Manufacturing
Elements Manufacturing has been working with trend-setting architects and contractors to manufacture and install commercial millwork since 1995. Visit us at www.elementsmanufacturing.com or call (831) 421-9440.