Architectural millwork since 1995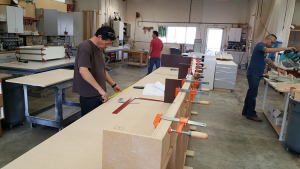 Elements Manufacturing works with leading architects and contractors to create functional beauty in commercial spaces. In addition to precise cabinets, countertops, panels and trim, we work hard to provide proactive communication with our contractor partners.
Ask us about Forest Stewardship Council® materials or specialty work for high tech, medical, educational, ADA or market-ready properties.
Testimonials
"We work with an architect that passed on a complement regarding the quality of Elements' drawings, in particular the notes and references outlining design concerns and suggestions for resolving issues. Elements professionalism really comes through when we get this kind of feedback." Victor (Chip) Bogard, President & CEO, Bogard Construction
California Contractor's License: 809684
Certifications: