Cabinet, counter, and panel repair service
Elements Mobile Repair allows your retail, office, or medical facility to remain a safe, attractive environment by quickly repairing or replacing damaged cabinets, countertops, paneling, or other broken wood or plastic finish materials.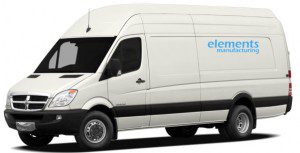 How does it work?
Call us at 831-421-9440 to schedule a repair. We may ask you to send a sample or photograph of the damaged material. We will also want to know about the work environment – are there customers or patients nearby? Where can we work? Our mobile unit will arrive at the scheduled time and, in most cases, make the repairs on site. In certain situations we will manufacture new items in our 20,000sf CNC-driven shop.
How quickly can you arrive?
Our mobile unit can usually arrive within two days of your call, including Saturdays.
Are you certified and insured?
Elements has been manufacturing and installing cabinets, countertops, and panels (both interior and exterior) since 1995. We are a Pro Compliance-approved vendor and carry all necessary insurance and licenses.

What does it cost?The service is designed to be fast and affordable. Our rates are as follows:
Hourly rate:                 $ 135.00*Schedule dispatch:     $ 150.00**Material cost:             as required
Set up:                        $ 200.00***Hourly rate:               $ 125.00**Material cost:            as required*Minimum ½ hour, rounded up.** All site visits, including assessment, include a $150 dispatch fee.***Shop rate set up per product group (i.e. cabinet countertop) to include total material and supply costs and hourly fabrication time.